Sweet Baby Jane Intaglio press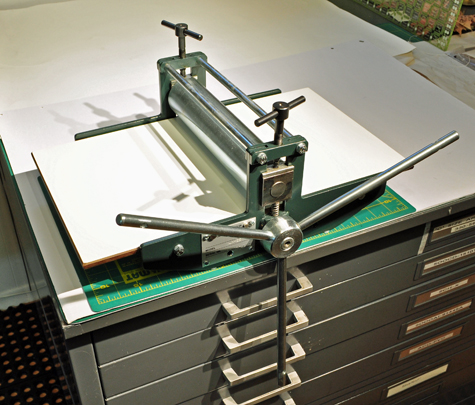 I bought this sweet little intaglio press when my artist's books were on exhibit at Impact 8, an international printmaking conference.  I saw the press my first day at the conference.  I'd been wanting to teach and demonstrate intaglio printmaking in places that did not have a press, but I had not been able to find one that met my needs.  I carefully examined the press and realized that it was a well made, solid piece of equipment.  When the answer to my first question: "How much does it weigh?" was  "26.5 pounds" I knew I'd found my press!  At 26.5 pounds I could move this baby without assistance and take it practically anywhere!   This little press opened all kinds of doors!  I began teaching in many places that did not own a press.  What I never expected was that my students would also fall in love with the press.  In response to their requests, I began importing these babies.
If you are interested in a Sweet Baby Jane, please contact me through the Contact section of my website and I'll be more than pleased to provide further details.