Three Dimensional Work
Handmade Sculptural Fans
I created these hand-made fans for a solo exhibition entitled Fandango in Washi that I had in conjunction with the Washi Summit 2011 organized by the Japanese Paper Place, Toronto. These handmade sculptural pieces demonstrate the versatility, resilience and beauty of Washi (handmade Japanese paper). The fans are not made of lace, fabric, and wood – they are handmade Japanese paper (Iwami, Kirigami, and Kozo Tissue) that I printed, dyed and stitched together in a way that makes them look like traditional Flamenco fans (typically made from lace, fabric and wood). The imagery on each fan is also non-traditional: Toronto's skyline, Dundas Street West and some of the unique architectural details found in the funky, old turn-of-the century stores found in Ontario.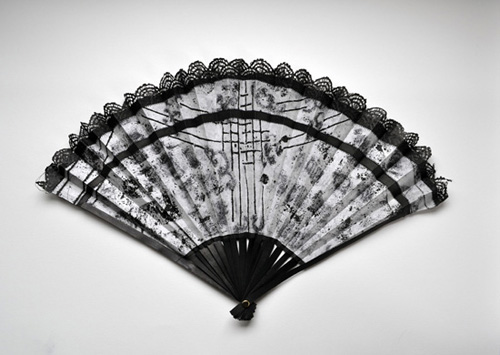 Handmade Artist's Books
These whimsical small books, which I refer to as the original pocket book are approximately 1.5 x 1.5 x.5 inch tall. They look just like a full sized book, but they are very tiny and can be teased out in different ways so that they become small sculptural pieces. EAch handmade book contains originals etchings on Washi tipped on to traditional Western paper inserted into a hand folded cover made from decorative papers that come from various places around the world.